Fulford Way, Woodbury, Exeter, Devon, EX5 1NZ
Click here
to see our sites opening hours
CQC Rating Outstanding
How to Order a Repeat Prescription
Repeat Prescriptions
A repeat prescription is a list of medications that can be supplied to you without seeing your doctor again. You will receive a "repeat slip" for any medicine that your doctor authorises for repeat issue. To obtain further supplies of these medicines, just tick those items which you need and hand in or post the slip to the surgery.
It is also possible to request your repeat prescription items online. If you haven't already registered for online services click here for details of how to do this.
In all cases you should allow at least 2 full working days (excluding weekends and Bank Holidays) for preparation of your prescription items.  DURING THE CURRENT COVID-19 OUTBREAK PLEASE ALLOW 1 FULL WEEK
This allows our dispensers or the Community Pharmacy time to have them ready for collection (some drugs may not be in stock). Please do not telephone to request repeat prescriptions. This increases the possibility of mistakes and ties up the telephone lines.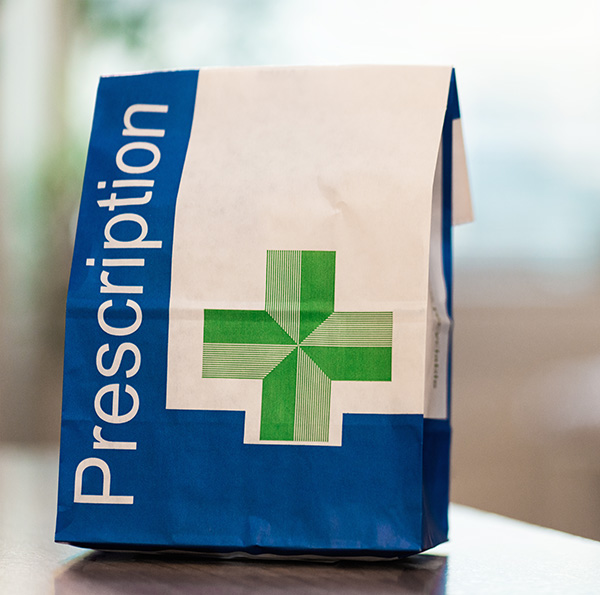 If you think you may need multiple prescription items over a period of time, please ask our dispensers about a Pre-Payment Certificate.
 ORDER YOUR REPEAT PRESCRIPTION
Dispensing Practice
We are a Dispensing Practice which means we are permitted to dispense medicines directly from our practice dispensary to those patients who live more than one mile (as the crow flies) from a community pharmacy.  The vast majority of our patients fall into this category and enjoy the convenience of a "one stop" service. Department of Health regulations do not permit us to dispense to patients who live less than a mile from a community pharmacy.
Medication Reviews
Patients on repeat medication may be required to see a doctor or practice nurse at least once a year to review their regular medications, and a notification may appear on your repeat slip. Please ensure that you respond to any such request, which will avoid unnecessary delays to further prescriptions.
Please allow two full working days for prescriptions to be processed and remember to take weekends and bank holidays into account.